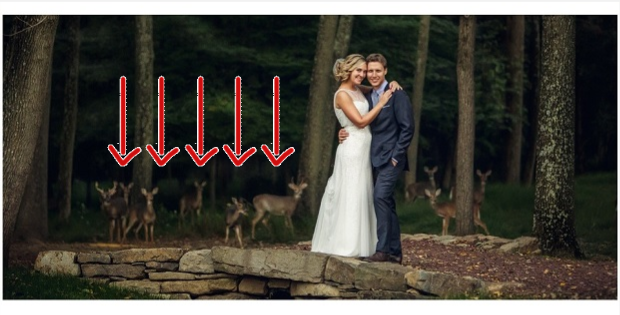 What Would You Do If These Unexpected Guests Showed Up During Your Wedding Photo Shoot?!
Planning and organizing everything is a challenging task in wedding photography. Everything should be perfect in order to shoot the right photo.
However, sometimes it doesn't go exactly as planned and unexpected events happen. With that being said, it all depends on how you manage it and create something beautiful and unique out of it. That's exactly what this skilled wedding photographer did.
Read the story, check out the images and let us know what you think!
I photographed the backyard wedding of Lauren Ruff and Erick Fix in Stockton NJ this past weekend. During the dinner, we were surprised by a herd of deer that appeared at the edge of the woods. The bride and groom graciously let me interrupt their meal to see if we could get a photo or two near the deer. The deer were quite jittery as we approached, so I didn't expect that we would be able to get so close!

 

I posted the photo to my facebook page www.facebook.com/catalystphotography Sunday evening and it immediately started getting likes.

My brother posted it to reddit on Monday morning and texted me that it was quickly climbing the ranks. It landed as the top link on reddit for about 3 hours and has turn turned more than 3 million views in 24 hrs.

……………….

Read the full story here at CatalystPhotography.com and see more photos: Deerly beloved
Credits:
Article Source: Deerly beloved
Image Source 1 (The original of the featured image above)