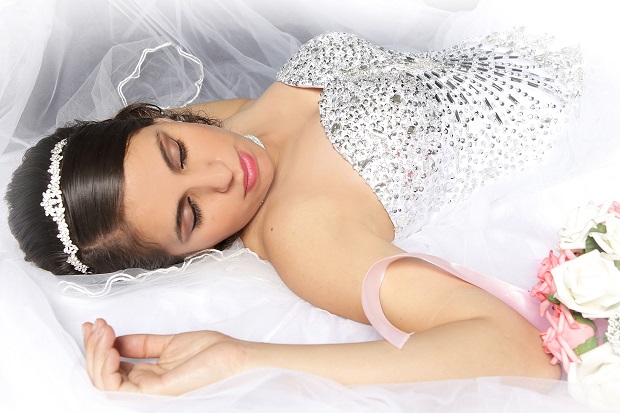 Learn These Bride Posing Basics For a Wedding Shoot!
The trend in wedding photography is changing all the time and has become more nouveau rather than the traditional one. If you know how to direct the bride to pose for a wedding shoot, then half of the job is done!
This great article written by an amazing professional wedding photographer shares with you some essentials of posing a bride for a wedding shoot.
Read through the article and let us know about your valuable thoughts!
Angie Candella is a wedding photographer based in Pittsburgh and who has gained lots of recognition for her work. She's been shooting professionally since 2008 and bring a unique and modern touch to her weddings. The trend in wedding photography for the past couple of years has moved away from the super traditional and more towards the alternative and nouveau. What Angie has that helps her so much with this is her background in fashion photography. "I go through every photo and make sure that the bride looks flawless, and that the photos look like it came out of a magazine." says Angie.

We talked to Angie about the specifics of posing a bride–and given her fashion background, Angie has quite a different approach to it.

Phoblographer: Talk to us about how you first got into wedding photography.

Angie: I was sort of thrown into wedding photography, haha. I did my college internship at Brides Magazine in NYC between my junior and senior years. Later that year, a friend who lived on my floor asked if I'd be interested in photographing her mom's wedding. Once I graduated college, I did a few weddings a year, but mostly focused on fashion photography. My style has always been very romantic/ethereal/fairytale-like, so my photography has kind of moved in the general direction of the bridal/wedding industry.

Phoblographer: You've been featured on a load of publications and places, but more than that you're not only a wedding photographer but you also work on wedding lookbooks to stay within the same field. What gave you the idea to do this?

Angie: When I was first getting into fashion photography, a bridal designer contacted me and sent me a few pieces to shoot for one of my fashion photoshoots. About a year or so later, she asked me about photographing her lookbook. We ended up doing it as a trade- I photographed her lookbook, she made my accessories for my wedding. I really enjoyed shooting the lookbook- I ended up splitting it up between 5 different models/photoshoots. I ended up getting the photos published on several bridal blogs. At that point, I was hooked.

A little over a year ago, while I was still working full time as an e-commerce for another company, I got the idea to contact bridal designers directly. I do collaborative styled shoots as well, so even if they didn't want their collection photographed, styled shoots were a great way to start working with industry professionals and develop friendships with others in the wedding industry. Over the past year, I have gotten to work with a ton of bridal designers from across the country, whether for styled bridal shoots, lookbook shoots, or even a fully styled lookbook shoot where the designer gave me a vision, and I did the full event design for it.

Phoblographer: Every woman wants to look the most absolute beautiful that she can on her wedding and wedding dresses can sometimes be really tough to work (for images) with due to designs. What's the biggest tip on shooting bridal portraits that you feel you've learned over your years shooting?

Angie: If I had to pick one, I would say, don't be afraid to actually pose the bride and groom. What I do, is mirror what pose I want them to do, then if they don't get it, I physically move them (their arms, face, bouquet, etc.) to where it looks best. Most brides aren't models- they don't necessarily know how to pose, or what angles look best for them. (Also, please, please, please don't blow out the dress! )

Phoblographer: One of the things that I always used to carry with me while shooting portraits is powder for the bride. Has this ever helped you out when shooting portraits?

Angie: I've never thought of having that, but it sounds like a good idea! While I try to get everything right in camera, I still do a lot of work in post to enhance, fix skin, make the photo look a little more fine-art style, so something like that has never really concerned me as far as photographing a bride.

Phoblographer: Talk to us about posing. What are some of your favorite poses to use with brides?

Angie: Because I have a background in fashion, I like to do a lot of the more-serious poses (A bride and groom next to each other, the bride's hand on the groom's shoulder, her hip jutting out just slightly looking the other way) However, I also LOVE photographing brides twirling in their wedding dress. You can get some of the most genuine smiles from a bride when she is twirling in her wedding gown.

……………….

Read more at thephoblograph.com and see some beautiful wedding photos here: The Basics of Posing a Bride for a Wedding Shoot
Credits:
Article Source: The Basics of Posing a Bride for a Wedding Shoot