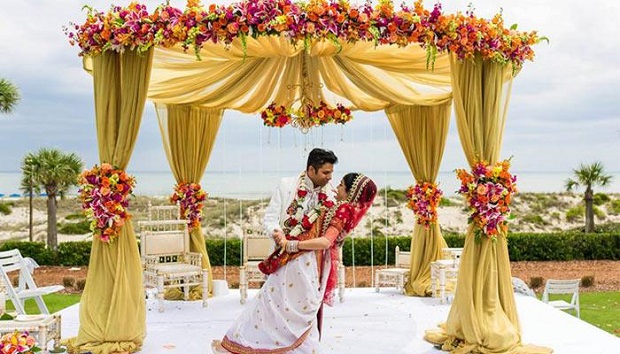 These Cool Ideas Will Tempt You To Have An Outdoor Wedding!
When it comes to wedding ceremony, most people think about having an indoor event. But, when it's bright out there during the day, why not have it outdoors?
For a perfect wedding photography, you need brilliant ideas and if you are doing an outdoor ceremony, you might need some fantastic ones. Well, here's some cool ideas that will tempt you to have an outdoor wedding.
Read through this awesome article, check out the photos and let us know about your ideas!
In India, a lot of weddings are scheduled in the late evening hours. And, why not? After all, the glitz and glamour of the night weddings make them look truly magnificent. But, that does not mean the daytime weddings are not as much fun as the ones that take place at night. And, if you have any such thoughts about the morning weddings, then we have something that will totally change your mind. With a couple of awesome ideas, morning weddings too can be too much fun for the couple as well as their guests.

So, here we share with you some brilliant ideas to make a morning wedding absolutely fun and unforgettable.

#1. Have some beautiful shaded spots

Arrange for beautiful canopies or shaded spots, where your guests can sit and watch the entire wedding ceremony. Depending upon your choice, you can either have one big tent covering the entire venue, or you can go for small shaded spots all over. Make sure the colours of the canopies go well with the rest of the wedding décor.

Image Courtesy: Amour Affairs Photography

……………….

#2. Hand over your wedding newspaper to your guest

Well, isn't a newspaper the thing that most of the people look for in the morning? So, why not be a bit more creative and fun, and design a newspaper giving different details of your love story as well as your wedding celebrations? You can hand it over to your guest right at the entrance so as to get them even more excited and curious about other fun elements of your wedding ceremony.

Image Courtesy: Crystal Frasier Weddings

……………….

#3. Give cool sunglasses to your guests

To make sure that your guests are not bothered by the sunlight, you can have cool sunglasses for all of them. You can show your creativity here as well by getting your and your partner's name printed at the either side of those glasses. What's more? Your guests will have something as a memento of your wedding.

Image Courtesy: Arjun Mahajan Photography

……………….

#4. Have some bright parasols

Another way to save your guests from the bright sunlight, have a parasol (umbrella) station at your wedding venue. And, of course, just like the sunglasses, those parasols will also make a beautiful memento of your wedding.

Image Courtesy: Amour Affairs Photography

……………….

Read the full article here at BollywoodShaadis.com and find out all those fantastic ideas:

8 Cool And Fantastic Ideas That Will Tempt You To Have A Daytime Outdoor Wedding
Credits:
Article Source: 8 Cool And Fantastic Ideas That Will Tempt You To Have A Daytime Outdoor Wedding