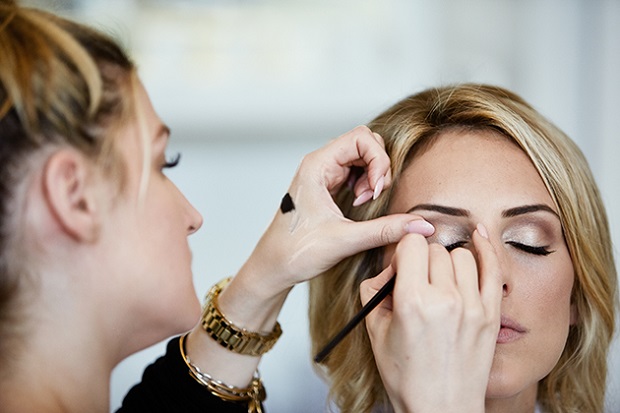 Learn How To Stay Fresh And Look Good All The Time During your Wedding Day!
Your wedding day may get very long and even tiring despite its excitement and awesomeness. If you want to capture great wedding photos, you have to stay fresh and look good.
In this great article, a couple of tips are shared with you such as things to discuss pre-wedding, before your glam team leaves, before you leave the bridal suite, right before you walk down the aisle and much more.
Read it fully and let us know about your thoughts!
Photo: Matt Blum Photography

It took hours of pinning and many hand cramps from clicking, but you've settled on your perfect hair and makeup combo. Now it's time to make sure it lasts from the time you leave the bridal suite to the time you and your new husband enter the wedding suite. "It's all about feeling like the best version of yourself all night long," says New York based makeup artist Allison Brooke. Armed with a few easy tips from Brooke, you'll be equipped to fight off faded makeup and limp hair and look fresh all day.

Things to Discuss Pre-Wedding

Kardashian contouring sounds great, but be realistic about the level of upkeep. Will you feel like re-applying that red lipstick or keeping black eyeliner on hand for your smoky eye on your wedding day? Brooke says this is also the time to identify your skin and hair type, since each requires different kinds of maintenance. If you've hired stylists, ask if they will bring items for you to take, she adds.

Day of: Before Your Glam Team Leaves

Your hair and makeup is perfect…and you want to keep it that way. If you've hired experts, make sure you take advantage. Brooke recommends going over touch-up tips with the stylists before they leave. Grab a beauty-savvy bridesmaid while you're at it to listen in and take notes. Designate her to remind you to do your little tweaks.

……………….

Before You Leave the Bridal Suite

It's time to head out for photos, first look or the ceremony, so do a once over. "Re-apply your lipstick, check your teeth and blot your forehead and around your nose," Brooke says. "Glow on cheeks, temples and down the center of your nose is okay." She recommends Boscia oil-blotting linens as they'll absorb oil without disturbing your makeup.

Finally, pack a beauty kit to-go: bobby pins, small hairspray and texture spray, tissues, Q-tips, toothpicks, lip balm, safety pins, breath mints, eyeliner pencil, blotting sheets or powder, eyelash glue and lip color.

……………….

Read the full article here at Brides.com and learn all the tips:

Essential Touch-Ups: How to Look Picture Perfect All Day Long Wednesday
Credits:
Article Source: Essential Touch-Ups: How to Look Picture Perfect All Day Long Wednesday